Source: TV Guide Next Break People
樋口日奈☆乃木坂46の演技派が宅間孝行脚本・演出舞台でヒロイン役に!
Higuchi Hina ☆ Performing the role of the heroine in a screenplay by Takuma Takayuki!
乃木坂46のメンバーとして活躍し、女優としても舞台を中心に活動を重ねる樋口日奈が、'20年4月22日より上演される「タクフェス 春のコメディ祭!『仏の顔も笑うまで』」に出演する。本格的コメディーへの初挑戦となる作品への思いや、脚本・演出・主演を務める宅間孝行のほか、モト冬樹、ダチョウ倶楽部の肥後克広、劇団EXILEの八木将康らとの共演に向けた期待、そして来年の目標などについて聞いた。
Higuchi Hina, active as a member of Nogizaka46 as well as being in the center of stage plays multiple times, will appear in the performances of "Haru no Comedy Sai! 'Hotoke no Kao mo Warau Made'" starting on 22nd April 2020. We asked her about her thoughts of challenging classic comedy for the first time, her expectations of co-starring with screenwriter/director/actor Takuma Takayuki, Moto Fuyuki, Higo Katsuhiro from Dachou Club and Yagi Masayasu from Gekidan EXILE, as well as her goals for the next year.
──まずは、出演が決まった時の心境から教えてください。
「以前からポスターを見て、『タクフェス』のことは知っていました。ポスターがすごくレトロな感じで、私もこういう世界観の中でお芝居をしてみたいなと思っていたので、出演が決まった時は本当にうれしかったです。ただ、一方では不安と怖さもありました。『タクフェス』の作品は、笑いあり涙ありのイメージが強いんですけど、『仏の顔も笑うまで』は本格コメディー。私は、人に笑ってもらうことが一番難しいと思っています。だから、不安や怖さを覚えたんです。そういう意味では、今回に限らずいつもそうではあるんですけど、今回も必ず1回は壁にぶつかると思います。きっと、"どうしたらいいんだろう"と考えてしまうと思うんですが、その壁を乗り越えて楽しさに変えていけたらいいですね」
First, please tell us your feelings when you were chosen for this performance.
I knew Takufes from a poster I saw before. The poster had a very nostalgic feel to it, and because I wanted to try performing in that kind of setting, I was very happy when it was decided I would be performing. However, I also felt uneasy and scared. "Takufes" is well known for having funny productions and sad productions, but 'Hotoke no Kao mo Warau Made' is an authentic comedy. Making people laugh is the most difficult thing for me. Therefore, I felt anxious and scared. I think I will definitely hit a wall this time, even though I always think that. There will surely be a moment in which I am unsure what to do, but I hope I can overcome that wall and turn it into something enjoyable.
──樋口さんは、どんな面白さがある舞台になりそうだと感じていますか?
「みんながそれぞれの勘違いをしているんですけど、それが勘違いだと思っていなくて、自分の考えは正しいと思って行動しているんです。それを客観的に外側から見ていくうちに、ラストに向かって面白くなっていく…。そんな作品になるんじゃないかと思います。笑うポイントは見ている人それぞれだと思うんですけど、ここで笑わせようと意識するのではなくて、本気で真っすぐに演じていれば、この作品が表現したいことにつながるんだろうなって思っています」
Miss Higuchi, what interesting things do you think there will be in this play?
Everyone misunderstands each other [in the story], but my character doesn't realize that and behaves as if her thoughts are correct. Looking at it from an outside perspective, it becomes more interesting towards the end… I think it will be that kind of production. What is funny differs for each viewing person, but rather than consciously trying to make people laugh, I think by performing honestly, this production will lead to what I want to express.
──初の本格コメディー出演に向けて、何か準備をしていることはありますか?
「今まであんまり本格的なコメディーを見たことがなかったんですけど、この舞台への出演が決まってから吉本新喜劇さんを見ています。そうしたら、たまたま吉本新喜劇さんの舞台にも勘違いのオンパレードみたいな作品があったんです。そこでは出演者の方たちが無理に笑わせようとはしていなくて、むしろひたすら本気でやっているさまが笑いを生んでいました。その舞台を見て、ちょっと心が楽になった部分があります。やっぱり、まずは本気でやって、その姿を楽しんでもらうことが大事なんだなって分かりました。今後も、今回の舞台で楽しく演じるために、コントなどを見ていろいろ勉強したいなと思っています。笑いの要素がある表現を見ることで、不安な心を軽くしたいですね」
This being your first classical comedy, are you somehow preparing for it?
Until now, I haven't seen that many classical comedies, but since I have been chosen for this play, I am watching Yoshimoto Shinkigeki*. While doing so, I also watched some of their productions based on misunderstanding comedy. In these productions, the performers weren't trying to make us laugh forcibly, but rather made us laugh by playing in a serious way. By watching those plays, my mind was put to ease a bit. After all, I realized it's important to enjoy making a serious appearance. After this, I also want to study different things by watching sketches etc. in order to have fun while performing in this play. By looking at expressions with elements of laughter, I want to lighten my anxiety.
[* A comedy theater group. -Ed.]
──樋口さんは舞台経験も豊富ですが、経験を重ねる中で成長や変化を実感できている部分はありますか?
「自分は分からないんですけど、周りが『どんどん良くなっている』って言ってくださるので、ちょっとずつステップアップできているのかなとは思います。今回の舞台もそうですが、共演する方は私よりも演技経験の多い先輩たちが多いです。そういう周りの先輩たちの壁が高ければ高いほど、無意識で"早く追いつかなきゃ"って思っているのかなって思いますね。あと、毎回稽古の時に、1回は"あー、もう全然だめだな自分"って、自信がなくなることが必ずあるんですよ。でも、気付いたら自然にその壁を乗り越えられていて、そこからはさらに演じることが楽しくなるんです。そんなふうに、いつの間にか何か吸収することを繰り返していけば、いずれはもっと高いところに上がれるのかなって思っています」
You have lots of stage experience already, but do you feel growth and change as you gain experience?
I don't realize it myself, but people around me told me I have steadily become better, so I think I am able to get better little by little. It will be the same with this play, there are many co-actors that have more experience than me. Being surrounded by those seniors, the barrier is high and unconsciously feel like I have to catch up with them quickly. I also lose my confidence every time I practice, thinking I can't do it anymore. But before I realize, I overcome that wall and I am able to enjoy performing. That way, I repeatedly get adsorbed in it and before I know, I am able to get to a higher level.
──乃木坂46のコンサートとはまた違う喜びがありますか?
「そうですね。コンサートと違って、何回もできるので、自然と体が楽になっていくというか、体力がだんだんありあまっていく感じが、すごく楽しいし、やりがいのあるお仕事だなって思います」
Is the pleasure different compared to a Nogizaka46 concert?
Yeah, it is. Unlike concerts, I am able to do it many times so my body is able to relax more naturally, or rather, I feel my physical strength gradually increasing, and that makes it a fun and rewarding job.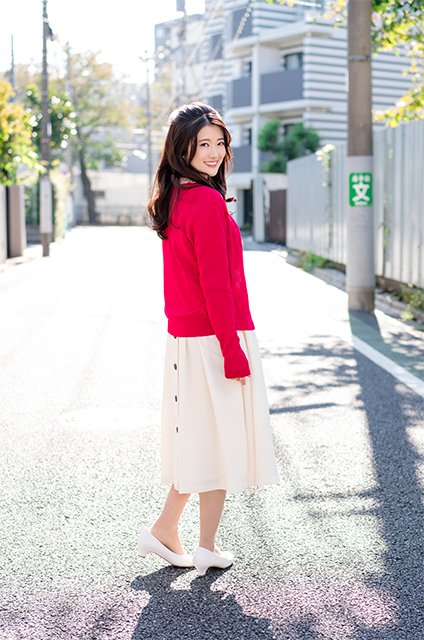 ──「タクフェス」を主宰している宅間孝行さんには、どんなイメージを抱いていますか?
「脚本も演出もされて、ご自身も出演されるなんて、本当に才能の塊なんだと思います。そういう方ってストイックに何かをとことん突き詰めるタイプだと思うので、私がついていけるか、同じ場所に一緒にいて取り残されずに必死に食らいついていけるか、不安ではあります。あとは、"愛のある厳しさがある方なんだろうな"っていうイメージがあります。私の出演が決まった時に、『この舞台が、女優としてのステップアップになったらいい。壁を乗り越えていってほしい』というコメントをしてくださっていて。その言葉を聞いて、この舞台が終わったら強くなれる予感がしているし、もっとお芝居が好きになっているような気もしています」
What image do you have of Mister Takuma Takayuki, who is supervising "Takufes"?
I think he is truly talented, being a screenwriter, a producer, and actually performing himself. I believe he is the type that does everything thoroughly, so I am a bit anxious about being able to keep up and stay in the same place without being left behind. He also comes across as being very passionate. When I was chosen to perform, he told me "I hope this play will be a step up as an actress for you. I want you to overcome this wall." Upon hearing those words, I felt that I will be stronger when this play ends, and that I would love to do more plays.
──モト冬樹さんや肥後克広さん、八木将康さんとの共演で楽しみにしていることはどんなことですか?
「やっぱり緊張してはいるんですけど、"すごく優しい方々なんだろうな"って勝手に思っているので(笑)、本当に楽しみです。いろんなことを教えてほしいなと思うし、ファミリー感あふれるこの舞台の中で仲良くなれたらいいなと思います。そのためにも、稽古の時には私から積極的に話しかけたいです!」
Do you look forward to perform together with Fuyuki Moto, Higo Katsuhiro and Yagi Masayasu?
Of course I am nervous, but I really look forward to it because I think they are very nice people (laughs). I hope they can teach me various things and I hope a family like bond will form during the performances. Therefore, I want to talk to them proactively during practice!
──「仏の顔も笑うまで」はコメディー作品ですが、最近の生活で大笑いしたことはありますか?
「普段からよく笑うんですけど、出演した舞台の昼公演と夜公演の間に、共演者の皆さんが全員寝ていたことがあったんです。それで、泥のように寝ている姿を勝手に写真に撮ったんです。その写真を見たら、皆さんが倒れている中で私だけが立っていて、私が催眠術をかけて皆さんが倒れているみたいで、1人で爆笑しましたね(笑)」
'Hotoke no Kao mo Warau Made' is a comedy production, but did something made you laugh out loud recently?
I usually laugh a lot, but there was also a moment where I and everyone I performed together with had to rest between the noon and evening performances of the stage play I did. Because of that, I sneakily took a picture of them without permission while they were sleeping. When you look at the picture, you see me standing alone while everyone was lying down, which made it look like I hypnotized everyone and that made me laugh hard (laughs).
──乃木坂46メンバーとして出演している「乃木坂46えいご(のぎえいご)」(TBSチャンネル1)や「乃木坂工事中」(テレビ東京系)の収録でもよく笑っていますか?
「笑ってないことがないぐらいですね(笑)。『のぎえいご』は、ちょっと今回の舞台と似ているところがあって、英語の勘違いや覚え違い、聞き間違いが本当に多くて、それが番組の面白さになっています。自分は本気でやっているけど笑いが起こることも、今回の舞台に似ているかもしれません」
Do you laugh much when you are recording NogiEigo (TBS Channel 1) and Nogizaka Koujichuu (TV Tokyo) as well?
There are hardly any moments when we don't (laughs). "NogiEigo" sometimes resembles being on stage a bit and we misunderstand, wrongly remember and mishear English really often, which makes the program interesting. I am doing it seriously but I have to laugh at times as well, so in that way it might resemble the coming play.
──最後に、乃木坂46のメンバーとして、モデルとして、そして女優としての'20年の目標を教えてください。
「乃木坂46では、卒業していくメンバーもいれば、新しく入ってくるメンバーもいる中、メンバーが多いからこそオンリーワンにならなきゃいけないと思っています。そのためにも、さらに自分の色を濃くする年にしたいですし、メンバーの中で"これは私が唯一だ"って自信を持って言えるようなものを見つけたいです。モデルの活動でも、私は身長が低い方なので、読者の女の子たちにより親近感を持ってもらって、"参考になる"と思ってもらえるように、私にしかできない見せ方をしていきたいですね。女優としても、やっぱり私にしか出せない色を出していきたいですし、皆さんの予想を裏切るような演技もしてみたいです。その上で、役柄や演技の振り幅を広げていけたらいいなって思っています」
Lastly, please tell us about your goals for 2020 as a Nogizaka46 member, model and actress.
As for Nogizaka46, members have been graduating and new members have entered, and I believe we have to be unique since there are so many members. Therefore, I want to distinguish myself even more next year, and find something that makes me say with confidence that I am the only one among the members. As a model, I am a short person so that might be familiar for the girls who read the magazine, so I hope to become a reference to them and I want to show that in a way only I can do. It's the same as an actress, I want to bring out an appearance only I am capable of, and I want to perform better than everyone's expectations. Besides that, I want to expand my horizon when it comes to roles and performances.