身体をあたためる673*日奈
Warming the body 673 * Hina
27th November 2019
Original: http://blog.nogizaka46.com/hina.higuchi/2019/11/053718.php
おはようございます!!
今日も1日頑張りましょうね♡
Good morning!!
Let's do our best today. ♡
最近は、身体を温めるために
白湯に加えて日本茶や、ハーブティーを飲んでいるよ。
皆さん体調管理に気をつけて下さいね。
私は毎日元気です(*´ω`*)
Recently, besides boiled water, I started drinking Japanese tea and herb tea in order to warm my body.
Everyone, please watch your physical health.
I feel healthy every day. (*´ω`*)
幕張個別握手会、
来てくださった皆さんありがとう☆
1~5部までこんな感じでした♪
Everyone that came to the individual handshake event in Makuhari Messe, thank you. ☆
From round 1 to 5, this is how I looked. ♪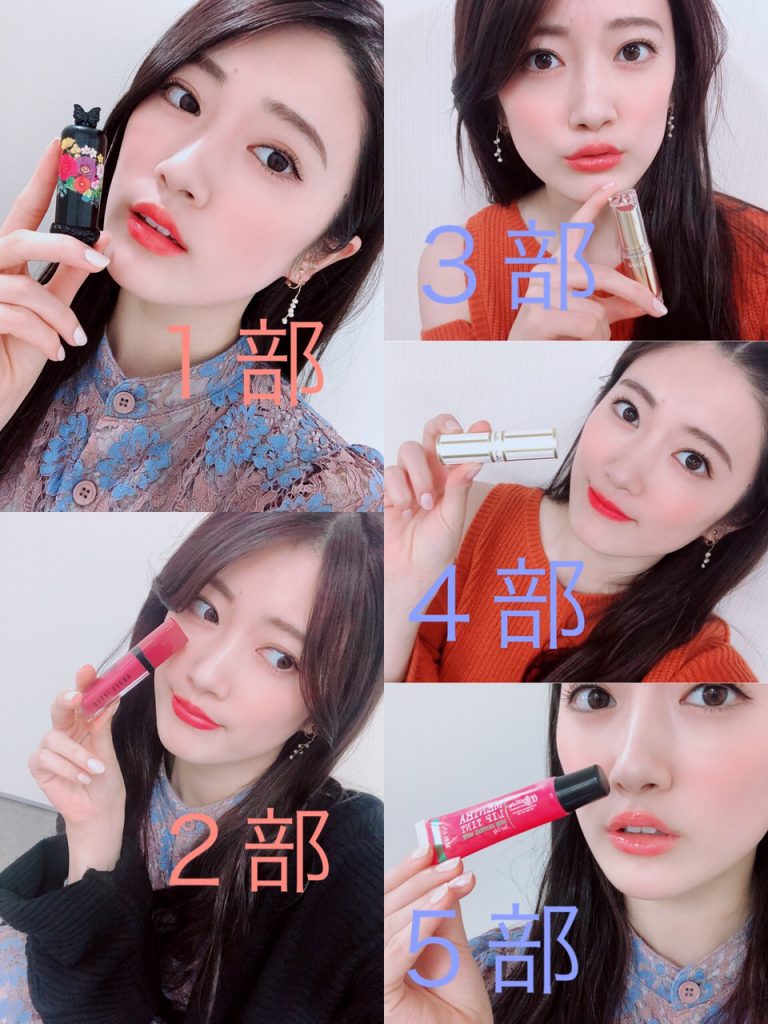 ↑毎部、メイクや髪型を変えているのだけど、
女の子からリップについての質問が多かったので、まとめてみたよ♡
↑ Each round, I changed my makeup and hairdo, and because I received a lot of questions about my lip balm from girls, I will sum it up. ♡
1部 ANNA SUI リップスティックS S401
Round 1 – ANNA SUI Lipstick S S401
2部 BOBBI BROWN
クラッシュド リキッド リップ
09インアジャム
Round 2 – BOBBI BROWN
Crushed Liquid lip balm
09 In a jam
3部 CEZANNE
ラスティンググロスリップ101
Round 3 – CEZANNE
Lasting Gloss lip balm 101
4部 LADUREE リップカラー06
Round 4 – LADUREE Lip Color 06
5部 C・O・BIGELOW
リップティント マジェンタミント
Round 5 – C.O. Bigelow
Lip Tint Magenta Mint
こんな感じでございます♡
That's it. ♡
沢山の方が来て下さって、
とても嬉しかった(*´ω`*)
お花、送って下さった皆さんありがとう!
755に動画載せるね♪
I was very happy so many people came to visit. (*´ω`*)
Thanks to everyone that sent flowers!
I'll post the movie on 755. ♪
次の握手会は12月!
引き続きお待ちしています♡
The next handshake event is in December!
I'll be waiting for you. ♡
最近ね、
《ナチュラルビューティスタイリスト》
という検定を受けて合格できました~!
I was able to pass the exam for "Natural Beauty Stylist" the other day~!
ナチュラルビューティスタイリストは、
身体の内側からも外側からも、
美しく健康的に輝くために、
ライフスタイルに活用できる様な、
植物のチカラに関する知識を勉強します!
A natural beauty stylist studies the effects of plants and how it can be applied in your lifestyle in order to shine with beauty and health, for both the inside and outside of your body!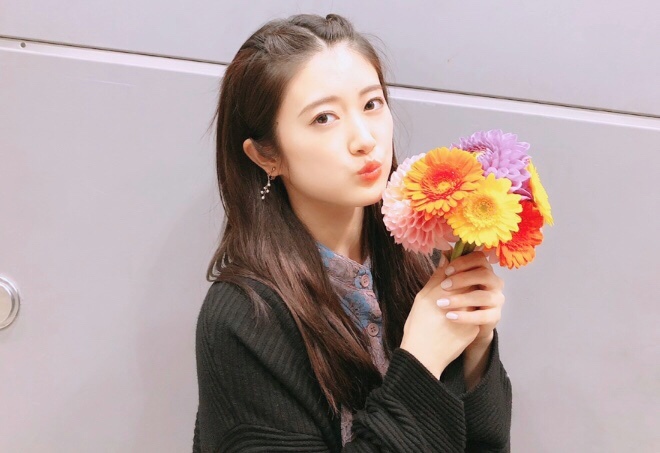 オーガニック用品や、
健康、睡眠、美肌についてなど…
ずっと興味があって自分なりに調べて実践していました。
Organic products, health, sleep, beautiful skin, etc…
These things have always interested me and I researched and practiced them myself.
そんな中、「興味があることを追究して、
何か資格や検定を受けたいな」と思うようになり、今の私にぴったりな、隙間時間を使って、手軽に受けられる、この検定を選んだよ☆
I have started to think that "I want to pursue my interests, and get qualifications or an official certification", and I could use this quiet period perfectly to pick this exam which I could easily pass. ☆
自信に繋がるものの一つを得ることができて、
何だか嬉しかった(*´ω`*)
I was able to get some confidence as well, which made me happy. (*´ω`*)
もっともっと勉強して、
いずれはお仕事にも繋げていけたらなと思っています!
そして乃木坂に還元していきたいです!
今の自分が何か少しでも力になれるように、
色んな角度から模索中(*´ω`*)
I will continue to study this, hoping it will lead to work eventually!
And I want to give back to Nogizaka!
I am looking for solutions from different angles in order for me to become a strength somehow, if even a little. (*´ω`*)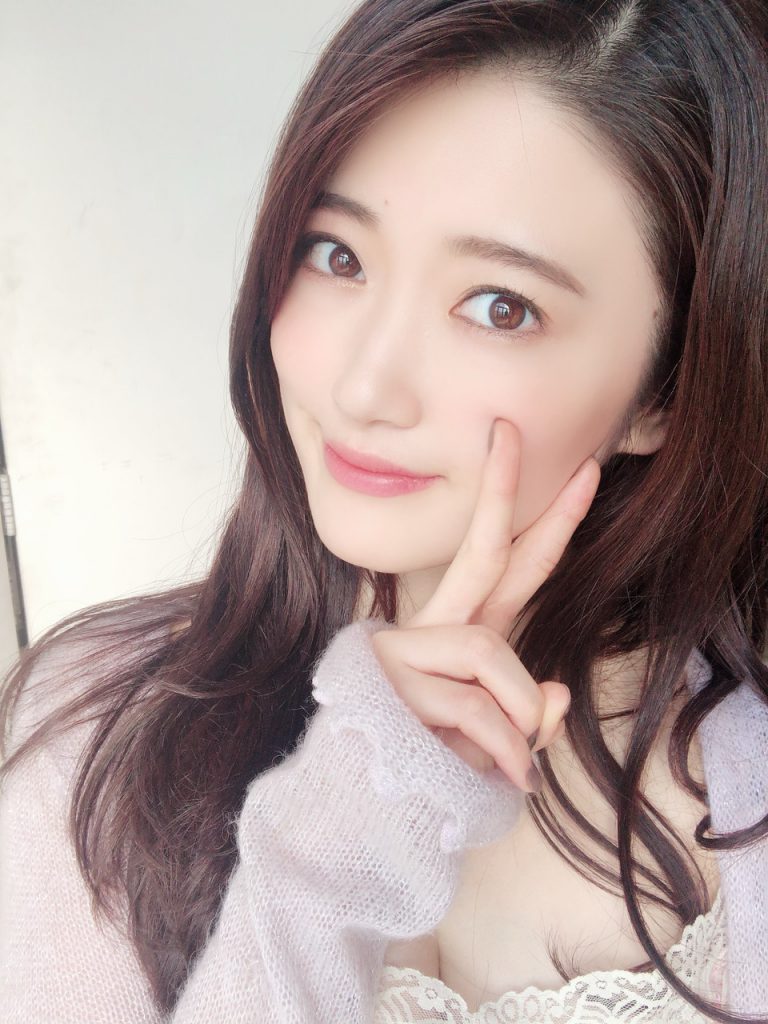 握手会とかでもお悩みあったら、
お話ししましょ~(*´ω`*)
If you have any worries, let's talk about them at handshake events. (*´ω`*)
今夜のベストアーティスト、
出演するのでお時間合えばぜひ見てください♪
I will perform at tonight's Best Artist, so please be sure to watch it if you have the time. ♪
今日も皆さんにとって
幸せでありますように…*
I hope you'll have a wonderful day today…
大好き
ひな
Love,
Hina