大草原の小さなお部屋629*ひなちま
A little room on the prairie 629 * Hinachima
1st October 2018
Original: http://blog.nogizaka46.com/hina.higuchi/2018/10/047188.php *
[* Hinachima accidentally wrote 628 in the title. – Ed.]
こんばんは*
今日も1日お疲れ様です。
台風、皆さん大丈夫でしたでしょうか…
心配でした(´;ω;`)
Good evening. *
Thank you for today.
I hope everyone is okay after the typhoon…
I was worried. (´;ω;`)
昨日は、セーラームーン千穐楽だったよ!
Yesterday was the final performance of Sailor Moon!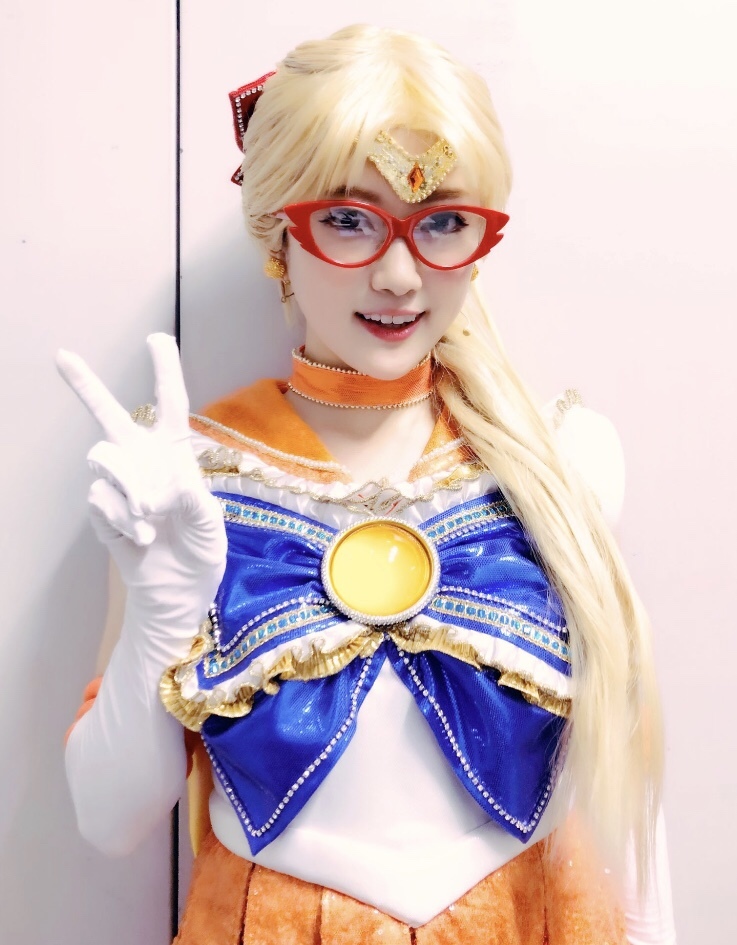 セーラーVちゃん!
Sailor Venus!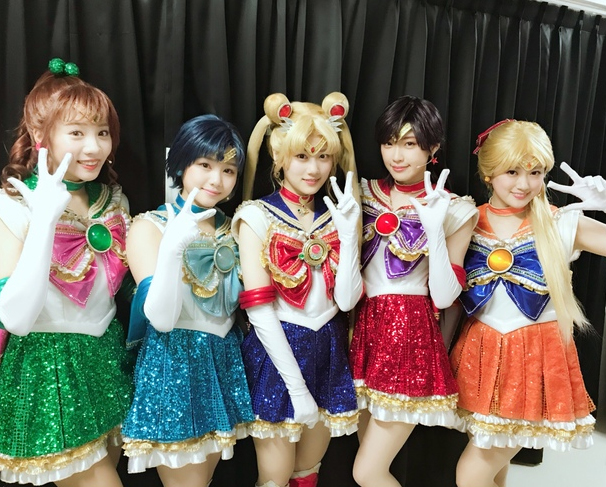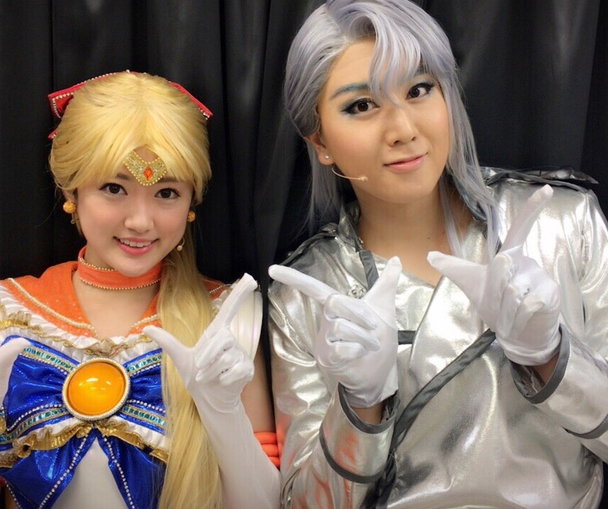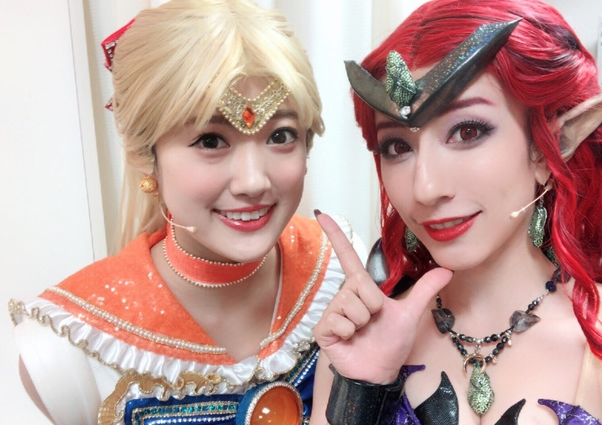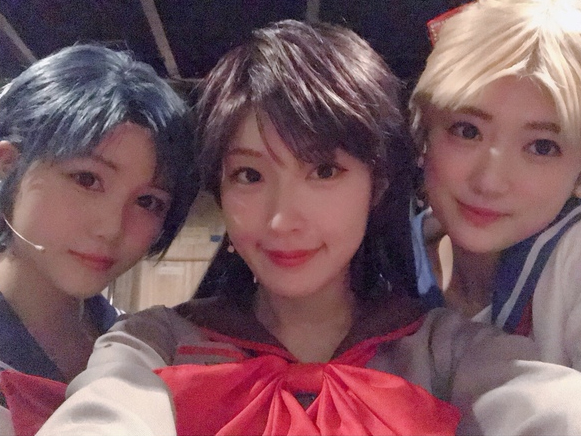 ↑写真いっぱい♡
↑Lots of pictures. ♡
美月、りりあ、かずみん、あみ。
5戦士として一緒に戦えて幸せだった!
絆がどんどん深まっていくのをダイレクトに感じて、今までよりも更に!みんなのことが好きに…
大好きになりました!!!(*´ω`*)
運命の5人。これからも大切な仲間です。
Mizuki, Riria, Kazumin, Ami.
To be able to fight together as 5 warriors made me happy!
I felt that our relationship steadily became stronger, even more than before! I love them all…
I really came to love them all!!! (*´ω`*)
The fate of the 5 of us. I will continue to treasure our friendship.
ベリル様、なみねぇ!(玉置成実さん)
私にとってお姉さんの様な存在。
大好きです。憧れです。
なみねぇの側にいると、素直になれます。
「しっかりしなきゃ!」って気を張らず、
力を抜いて自分らしくいられる。
これからも、ずっと宜しくお願いします♡
Belle-sama, Nami-nee! (Takami Nami-san)
For me, she was like an elder sister.
I love her. I adore her.
With Nami-nee next to me, I could be myself.
She can draw strength from being herself,
without telling herself to "stay strong!".
From now on, please take care of me forever. ♡
クンツァイト様、ちー様!(安藤千尋さん)
初めてお会いした時から、明るく気さくな方で、何て魅力的なのだろう!と思っていました。いつも本番前にぎゅーってハグをしていたのだけど、
毎回「今日も可愛いよ!」って言ってくれたの(*´ω`*)
私の自信、活力になっていました!
優しさと包容力に何度も助けて頂きました。
Kunzite-sama, Chiisama! (Ando Chihiro-san)
From the moment I first met her, I was charmed by her bright and good mooded personality! We always hugged before the performance and everytime I told her "you are cute again today!" (*´ω`*)
It gave a boost to my self-confidence!
Her kindness and tolerance saved me many times.
スタッフのみなさん、キャストのみなさん、
とっても優しくてあたたかい方々。
素敵な出会いに感謝です。
またご一緒できるように、これからも頑張ります!
Everyone from the staff, everyone from the cast,
they are all very kind and warm persons.
I am grateful to have met you.
I will work hard to once again be able to work together!
お稽古含め、5月頃から始動し、
千穐楽まであっという間でした。
全力で駆け抜けた期間だったな。
Including practice, the time since we started in May until the last performance flew by.
It was a period I ran through with full energy.
この舞台を通して、まっすぐに愛すること、
大切なものを全力で守ろうとする姿勢…
これからの生活において、忘れてはいけないかけがえのないことを学びました。
Throughout these stage performances, I tried to protect the things I love and the things I treasure…
Regarding future activities, I learned things that are unforgettable and irreplaceable .
セーラーヴィーナス、愛野美奈子ちゃんからも、いつも強さをもらっていたな。
Sailor Venus, and Aino Minako* as well, they always gave me power.
[* Aino Minako is the present-day incarnation of Sailor Venus and the civilian identity of Sailor V. – Ed.]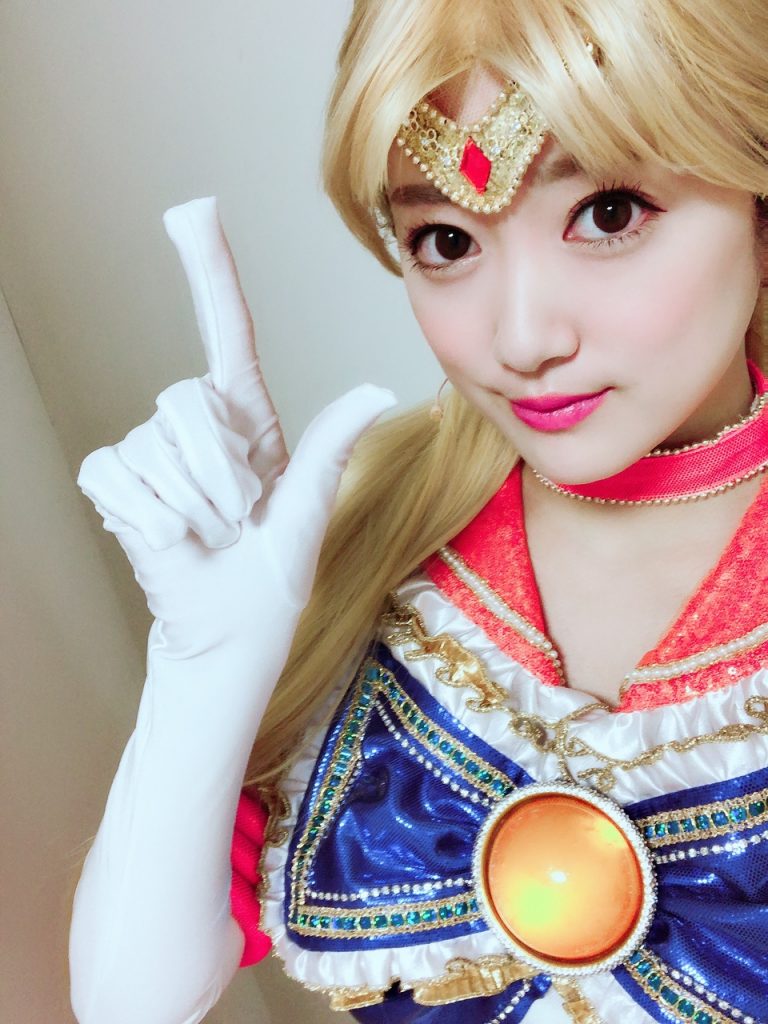 ヴィーナスは、どんな状況でも前を向いていて、みんなを引っ張っていく。
セリフ一つ一つが、胸に刺さりました。
私自身、強くさせてもらった気がします。
Venus always leads everyone, whatever situation she is facing.
Her lines are, one by one, stuck in my heart.
They give me strength.
ヴィーナスとして生きさせて頂いた時間…幸せでした。
観に来て下さったみなさん、
支えて下さったスタッフさん、
キャストのみなさん、
そしてなにより、武内先生…
本当にありがとうございました!!!
もっともっと、お芝居がしたい!
そう思いました。
これからも今日までの経験を糧に頑張っていきます!
The time I gave life to Venus… it made me happy.
Everyone that came to see the play,
the supporting staff,
everyone from the cast,
and above all, Takeuchi-sensei*…
Thank you truly!!!
I want to perform in plays even more!
From now on, I will work hard with the experience I gained until now!
[* She is referring to Takeuchi Naoko, the author of Sailor Moon. – Ed.]
そして、仙台個別握手会のことも!
会いに来て下さったみなさん、
ありがとうございました!!!
Also, the individual handshake event held in Sendai!
Everyone that came to meet me,
thank you very much!!!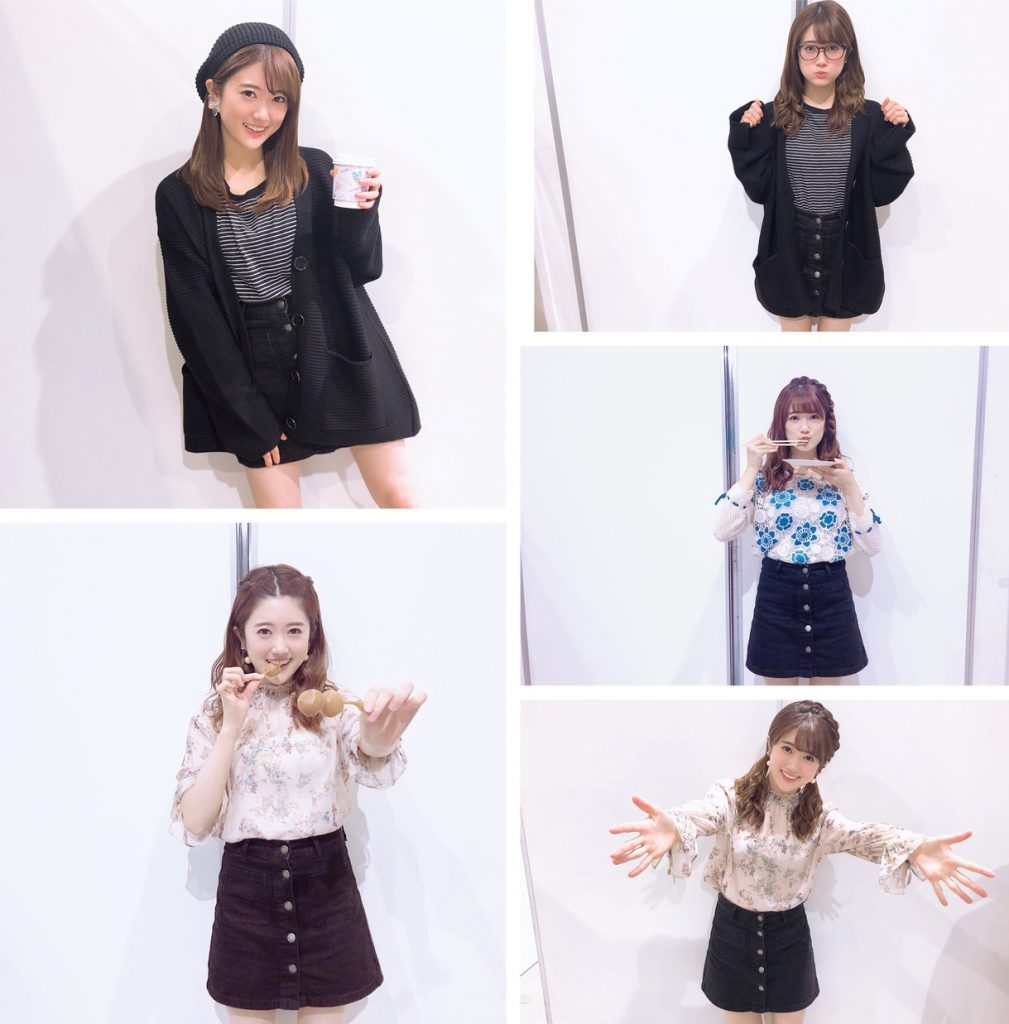 1~5部までこんな感じでしたよん♪
だんだん寒くなってきたので、
秋服にチェンジ!!!
This is what I looked like from round 1 to 5. ♪
Because it is gradually getting colder,
I changed to autumn clothes!!!
これからの握手会も待っていますね☆
毎部、服装や髪型など…
何かしら変えているので、お楽しみに♡
I will wait for you on the next handshake events. ☆
Every round, I will change something about my clothing, hairstyle, etc…
so please look forward to it. ♡
そしてそして…
昨夜の乃木坂工事中は、選抜発表でした。
今回もアンダーメンバーとして活動します。
選抜発表があってから、
今日まで忙しすぎて…正直気持ちの整理もできていないし、追いついていないです。
And also…
Yesterday evening, the Senbatsu announcement was shown on Nogizaka Koujichuu.
This time, I will be active as an Under member again.
Since the Senbatsu announcement until today, I have been too busy… I haven't been able to sort out my feelings yet, and haven't been overtaken by them.
大好きな、なぁちゃんの卒業シングル。
一緒に活動したかったな…という気持ちが
一番に出てきました。
The graduation single of the lovely Naachan.
I wanted to do it together with her… that's the feeling I am experiencing the most.
今日まで、目の前のことに一生懸命に
頑張って取り組んできたつもりだけど…
明るい気持ちで、常に前向きの姿勢でいるけど…
ここまでくると、
つい下を向いてしまう自分がいます。
Until today, I have been working very hard on the things right in front of me, but…
I have been feeling good, constantly looking forward, but…
at the moment, I am feeling down.
でも、毎日、忙しくお仕事をすることができているので、
今は…
今まで以上の充実感を感じています。
Everyday, I was busy with working, so now…
Until now, I haven't feel so fulfilled.
1期生としての7年間。
13歳から20歳の時の流れは、
とても大きなものでした。
きっと、これからまだまだ乃木坂は変わっていくし、出会いもあれば、別れもあるんだろうな…
そう思うと寂しいけれど、
変化し続けなければ、時代の流れとともに埋もれてしまうもんね。
It has been 7 years as a 1st gen.
From the time I was 13 years old until being 20 years old, there have been many big happenings.
Surely, Nogizaka will continue to change, and there will be meetings, and departures as well…
I feel lonely thinking about it, but if there is no change, it will cease to exist through time.
でんちゃん、りりあ、
おめでとう!!!
Denchan, Riria,
congratulations!!!
嬉しい事も、悲しい事も、
みんなで分け合いたい。
Happy things as well as sad things,
I want to share them with everyone.
大きな決断をするメンバーの側にいると、
自分はこれで良いのかな、
考えるべき時がくるのはいつなのかな…と思うこともあります。
When you stand next to a member making a big decision,
I sometimes wonder when I should consider things, is it alright not to…
でも、ラジオや舞台、
モデルの仕事など…
沢山のことを経験させて頂けている
今が凄く楽しい。
日奈自身がもっともっと成長して、
そして個々が実力をつけて、
その集合体として、乃木坂46というグループを不動のものにしたい。
But, radio and stage plays,
and modeling jobs, etc…
I am greatly enjoying the many things I am experiencing at the moment.
I want myself to grow further, strengthen my own abilities,
and with that make Nogizaka46 a steadfast group.
1期生として今までの乃木坂を守りつつ、継承しつつ…
柔軟さを兼ね備えて常に輝いていきたい。
そう思っています!
As a 1st gen member, I want to protect what Nogizaka has become today…
Flexible and always shining.
That's what I think!
まだまだ!皆さんとみたい景色、
感じたい喜びがあります!!!
There are still many more things I want to see with everyone,
and pleasures I want to feel!!!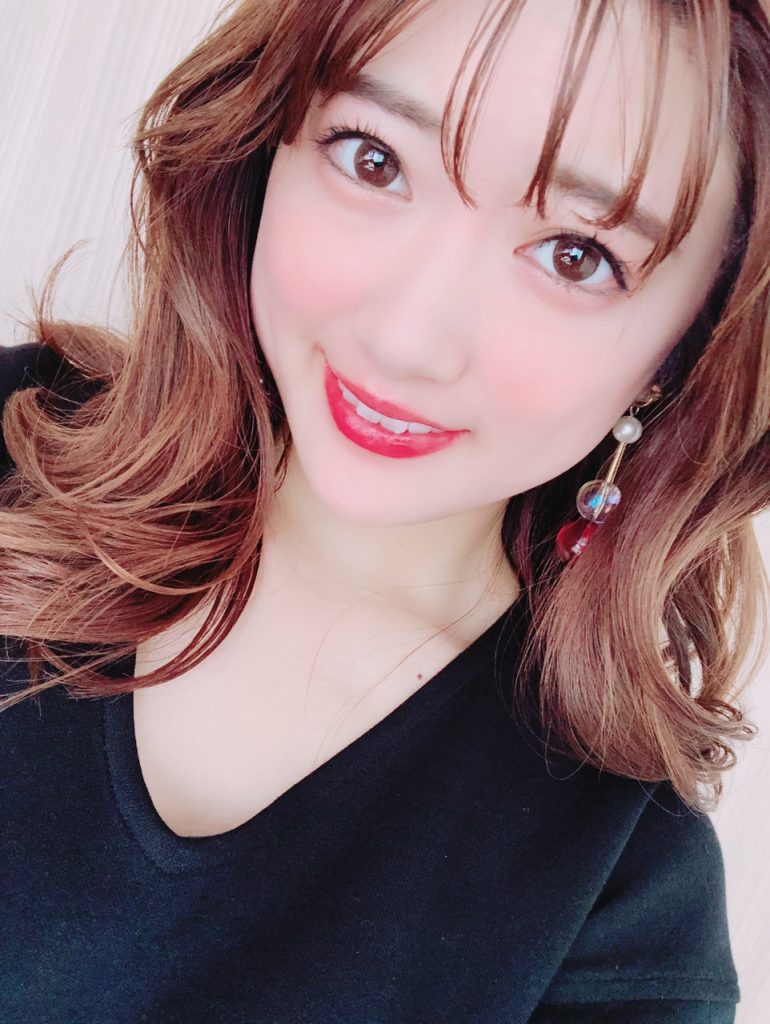 これからも変わらず、
穏やかに笑顔で、自分らしく頑張るね。
I will continue to work hard, calmly and smiling, the way I am.
応援宜しくお願い致しますm(._.)m
Please continue to support me. m(._.)m
さぁ!明日からは北海道アンダーライブ。
来て下さる皆さん、
お気をつけてお越しください!
Well! Tomorrow, the Under live shows in Hokkaido start.
Everyone that comes, please be careful on your way!
北海道のみなさんに、少しでも元気を…
希望をお届けできるよう、頑張ります。
To everyone in Hokkaido, I will work hard to deliver energy… and hope, even if it's a little.
[List of Birthdays]
☆HAPPY BIRTHDAY☆
素敵な一年になります様に*゚'゚・.。.:*
I hope it will be a wonderful year for you. *゚'゚・.。.:*
明日も皆さんが幸せであります様に☆
I wish you all a happy day tomorrow as well. ☆
大好き
日奈
Love,
Hina