Original article: https://www.thefirsttimes.jp/interview/0000054832/
Nogizaka46's first Best Of in ten years is full of the group's uniqueness that cannot be put into words, gathered by each member throughout the years
In August of this year, Nogizaka46 released their best of album "Time Flies" to commemorate that 10 years have passed since the group was born. It includes every single, starting from their debut "Guruguru Curtain" in February of 2012 to their latest single "Kimi Ni Shikarareta", the digital singles "Sekaijuu no Rinjin yo" and "Route246" and also songs that weren't released before such as the 2nd gen song "Yukkuri to Saku Hana" and "Saigo no Tight Hug", the song centered by Ikuta Erika who announced her graduation.
What do the members think about this first Best Of album since the group was formed ten years ago? (*This interview was taken before Shinuchi Mai announced graduation). We asked 1st gen member Higuchi Hina and 2nd gen member Suzuki Ayane to look back on their memories as Nogizaka46 members for 10 years.
Nogizaka's uniqueness, the amazing fact that the atmosphere does not change
– Please tell us how you feel about celebrating the 10th anniversary of the group.
Higuchi Hina: At this moment, I think time flew by, but I never thought I would still be in Nogizaka during it's 10th year. In that sense, it's a very incredible feeling.
– Miss Higuchi, you were 13 years old when you entered.
Higuchi: That's right. Now that I have become 23 years old, I think I spent quite some time of my life in Nogizaka, and on this 10th anniversary I once again feel how Nogizaka is a big part of my life. I am thrilled when I wonder about how more years it will be. Even though the members change, Nogizaka will always be unique because its atmosphere never changes which I think is amazing, and something I want to enjoy in the 11th year as well.
Suzuki Ayane: As a 2nd gen member, I entered along the way so it's the 9th year for me, but I am happy to be able to celebrate the 10th year together with my senpai like this. The senpai who are celebrating their 10th year are amazing after all. We will celebrate 10 years in 2 years as well, but I also feel the pressure of being able to become as amazing as them.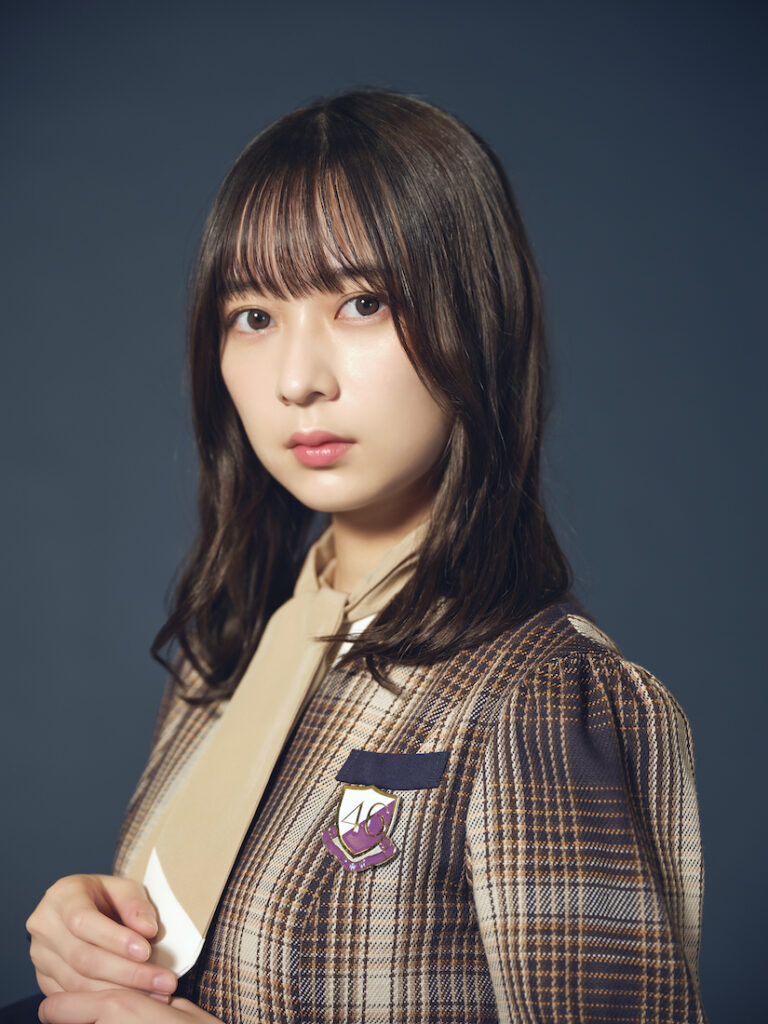 – At the moment, what do you think is amazing about your senpai Miss Higuchi, who is sitting next to you?
Suzuki: First of all, her looks.
Higuchi: Eh, that makes me happy!
Suzuki: Since she cut her hair, she became more attractive. I also really love her strong-willed courage.
Higuchi: Oh, I'm happy (laughs). Even though the 2nd generation entered in a different year, there is something different than the 3rd and 4th gen because of the number of days you have accumulated. I see you as like-minded even though you are from a different generation, so I am happy to be called senpai by you again. To be honest, around the time the 2nd gen entered, I wasn't able to accept the 1st gen yet, so I think that must have been a very troublesome experience. Therefore, even though our gens are not the same, I think our bond is different than with the 3rd and 4th generations.
– She mentioned you as like-minded.
Suzuki: I am happy for that. I have always perceived myself as a kouhai to my senpai, but I am glad to hear we were being accepted as partners.
– Looking back on these 10 years, what kind of days where they?
Higuchi: I enjoy them now, but honestly, it's hard… but there were days I rapidly lost confidence in myself. I entered when I was 13 without knowing anything, and Nogizaka really became everything. There was a period I thought I didn't understand myself, but when I look back now celebrating the 10th year anniversary, I am glad I didn't give up because of those feelings. A lot of things happened really. At one point, I didn't understand myself… and lately, I have finally been able to affirm myself. I think it's different for each person, but I'm glad I kept going for a long time.
I believe I never really wanted to quit from the bottom of my heart
– If there were times when you lost yourself, why did you continue to do this without quitting?
Higuchi: It's a relentless world, in which you can gauge popularity by the numbers. Also, some opinions are judgmental – even though it's just a small part, it's something I am worried about. There was a time I was trapped in my own shell, thinking I was not good enough. Especially when I was an Under member, or didn't have any jobs. There were also many times I wondered who I was, but I believe I never really wanted to quit from the bottom of my heart. When I had little motivation left to continue, I cried to my mother "I want to quit" but the moment she replied "Then why don't you quit?", I answered "No, I will go on." That's the impact of my mother's words. Instead of telling me not to stop, when she told me to do so, the part of the me that hates losing which is in my core, came out. Also, Akimoto-sensei once said in an interview that everything that keeps going on for a long time will win. I willfully identified myself with those words. I'll work hard a bit more, I'll work hard a bit more, so I thought.
– Not quitting back then resulted in your success these recent years. Not only the drama "Kyojo II" and the stage play "Hula Girl", you also weren't present at the "Nogizaka Under Live 2020" shows.
Higuchi: Thank you.
Suzuki: Indeed, that was truly amazing.
Higuchi: I am really enjoying things at the moment.
It feels like we are in a mysterious space where we are not aging
– Miss Suzuki, how have these 8 years been?
Suzuki: They went by in no time. When you enter this group and everyone is growing older, how should I put it… it's like being in a box.
Higuchi: Hahahahaha. But I get what you mean. It is like that.
Suzuki: We are getting older, but it feels like we are in a mysterious space where we are not aging. There are some parts of us that are still immature, but it doesn't mean we didn't become adults. There are parts that came to a stop, and parts that advanced too much, so these 8 years have been a mix of various things inside of me.
– What kind of box is it?
Suzuki: It's like Peter Pan…
Higuchi: It's Neverland (laughs). When I talk to friends that aren't performers, my classmates are now finally getting jobs and are becoming working adults. For example, looking at Maichun (Shinuchi Mai), many people of her generation are already married and having children. But I don't mean that in a bad way, I mean she is youthful. It's incredible, right? The feeling is always the same. The relationship between me and Ayane-chan also never changed, and the age of the younger members also seem to have come to a stop. I don't feel I am getting older myself either. (Akimoto) Manatsu still feels like she is 24 years old, but I heard she is already 28 years old.
Suzuki: I know what you mean! It sure is like that.
Higuchi: Manatsu being 28 years old made me realize I will soon become 24 years old. Thinking about that is really scary (laughs).
Suzuki: It feels like a strange box (laughs). A strange box.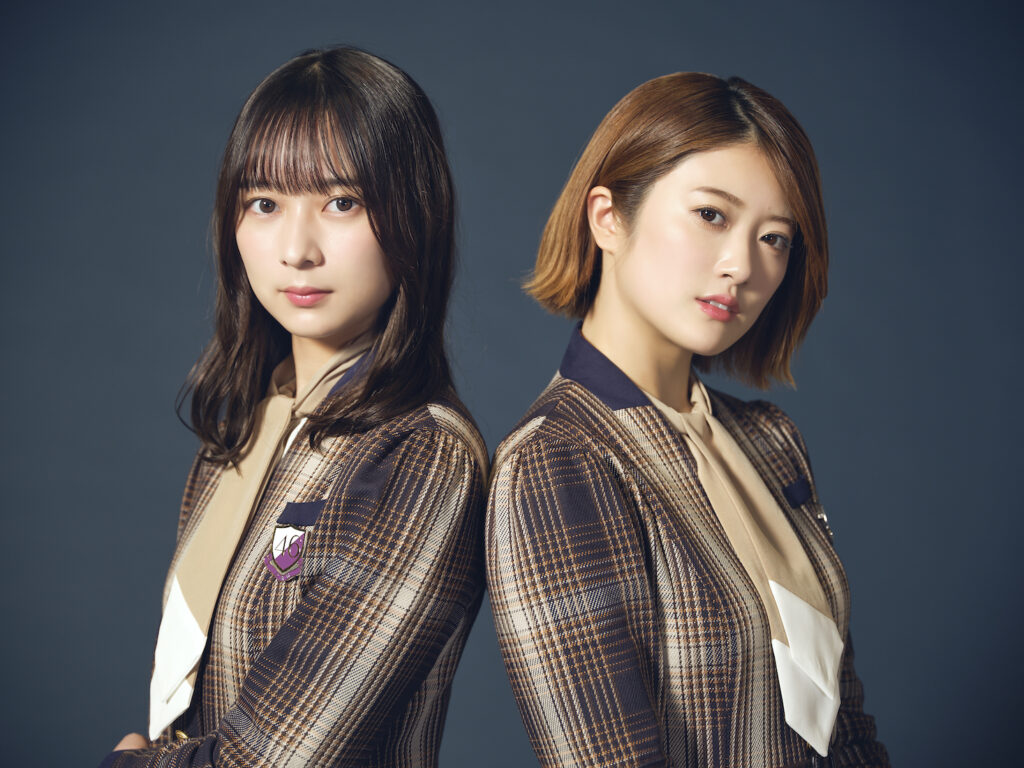 – (laughs) Miss Higuchi, you said you are enjoying things now, but since when did you do so? Also, could you tell us about each of the turning points that made this to be?
Higuchi: It really has been recently. It doesn't mean I didn't enjoy things before, but it's only recently that I have been able to do things without being nervous. When it comes to outside jobs, I had to go alone many times, so there are occasions that I am naturally not that nervous, but I think that is the biggest reason for feeling confident. Until now, I had trouble speaking even in our own show. I read the air too much because of being in there for so long, thinking "it's not exciting when I talk now." Or thinking "It's not my place to come out now", or "Maybe it's better for a more popular member to say something." I've been doing too many calculations for a long time, but it's only recently that I got rid of that and enjoy things. I don't know where it came from, but it's only recently that I've been able to enjoy live performances naturally.
– Is it since you are 20 years old?
Higuchi: No, it's only been since one or two years. I finally feel like I am able to enjoy things.
Suzuki: For me its also been recently, people that support me have been saying "You have become brighter" and "You smile more", but since this is since "Kimi ni Shikarareta", it's really just since the other day (laughs).
Higuchi: Hahahaha. The turning points for us both seem to be "just the other day."
Suzuki: Hihihi. Similarly, I'm wondering if it was all right to be able to enjoy it. I also wondered if there were too many things I was worrying about. However, I think it's good to be myself.
– Well, what is the first memory of these 10 and 8 years that comes to mind?
Higuchi: Somehow… there are no surprising memories.
Suzuki: Indeed. My memory is getting worse each year.
Higuchi: It might also be that we have erased the painful memories (laughs).
Suzuki: When I dig up memories… it would be the time I got promoted. However, I have forgotten so much I can't even tell you which Birthday Live show it was.
Finally I have become someone who can do something for this group
– (laughs) It was during the "Nogizaka46 3rd YEAR BIRTHDAY LIVE" held in Seibu Dome on 22nd February 2015, wasn't it?
Suzuki: I think that moment was one of the turning points in Nogizaka's existence. At that time, it was natural for me and the group to be a kenkyuusei. As an inexperienced person, I finally got recognition after a couple of years. I was very happy to finally become someone who can do something for the group.
Higuchi: I… wonder~. There are many moments that impressed me, but the moment we stood in a circle and held hands at the Record Awards made me realize how happy I am for this group. The first time with "Influencer" (2017) and the second time with "Synchronicity" (2018), there was a moment when everyone got into that zone. Being able to feel that was precious, and that's why I thought we were able to receive such a wonderful award. I tear up thinking about it even now, it was such a wonderful experience. There are no other moments when everyone's hearts are united like that, and it was a moment when I was really happy with Nogizaka.
– Are there memories of you two together?
Higuchi: As for working together with Ayane-chan, doing the "GIRLS REVUE" stage play together was a big thing. Ayane-chan had a quiet and cool image. I thought I wasn't the type to laugh out loud, but because we experienced the same hardships together on that stage, we were able to laugh together without hiding from each other. If I am not mistaken, we were together during Christmas as well.
Suzuki: For the rehearsals, right? We were together.
Higuchi: It was enjoyable working hard with everyone back then. I think it was fun.
Suzuki: I have some memories of myself about us though…
Higuchi: Eh? What?
Suzuki: I was really happy when Miss Higuchi became center for the first time for the coupling song "Secret Graffiti" that was on the 15th single "Hadashi de Summer" (July 2016). At that time, I couldn't get a sense of our distance yet and couldn't convey my happiness. It was late when I entered Nogizaka, but because I knew a little bit about the kind of road Miss Hina had walked so far, I was moved when I saw her standing at the center during the recording of the MV.
Higuchi: That makes me so happy.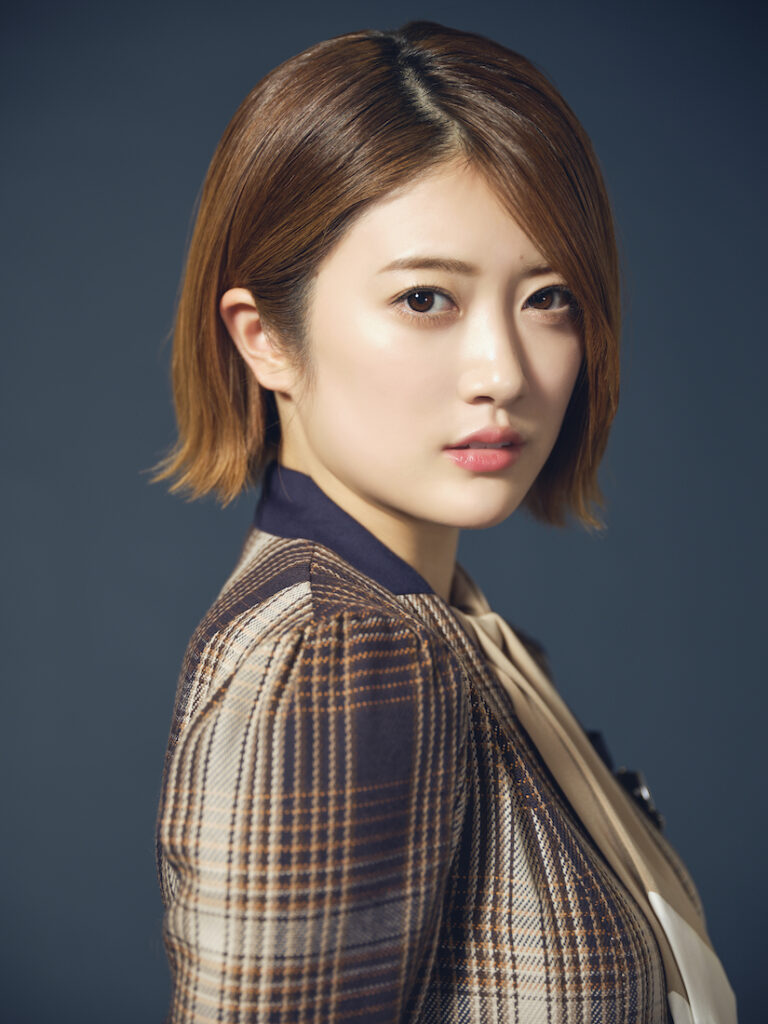 I was happy that even a substitute was needed
– Many songs are telling your story, but could you both choose a song that you like from the songs included in the first Best Of album?
Higuchi: For me, it's the 19th single's "Itsuka Dekiru Kara Kyou Dekiru", of which I wear the costume on my custom jacket cover. I was an Under member at that time, but I was often called to fill in whenever a Senbatsu member couldn't perform. Therefore, it's very memorable and its a song that makes you feel that you are working hard. Many of the Under members have all kinds of more delicate emotions, but when I was called to fill in, rather than thinking of those emotions, I was feeling happy most of all. I was rejoiced that I was needed. Instead of being frustrated or having complicated emotions, I was honestly happy and thinking about giving it my all. I was happy that even a substitute was needed, and I remember doing my best. Moreover, the lyrics of this song really touch me emotionally. "Don't run away now, look forward and stand your ground." At that time, because I was telling myself that I should do my best without quitting, I really like this song even though I haven't participated in it.
Suzuki: For me, it's the 2nd gen song "Yukkiri to Saku Hana" after all. It's the song we got when it was decided there was going to be a 2nd gen live show for the first time. In the end, we couldn't do it because of the pandemic, but we were able to perform it for the first time at the live online broadcast. I was already happy with that, but after that we could also make an MV for the MV collection. It wasn't long after the state of emergency was declared, so we couldn't shoot for long periods, so we shot it in one take. At that time, how should I put it… everyone was really happy that an MV especially for the 2nd gen song could be made. The first 2nd gen song "Kakigoori no Kataomoi" didn't have an MV and the number of songs we have compared to the 3rd gen is also smaller, so I was happy that we got such a wonderful song and we could make an MV as well.
– At the time of "Nogizaka46 Maboroshi no nikisei live" show in 2020, there were 8 people though…
Suzuki: The 2nd gen has decreased to less than half its size in this year, so I am surprised and feeling lonely.
Higuchi: The lyrics are something else aren't they? I'm already tearing up.
Suzuki: We can't help but cry hard.
The person who makes the color of Nogizaka
– This album also includes the song "Saigo no Tight Hug" which is centered by Miss Ikuta Erika, who announced her graduation. What kind of presence is Miss Ikuta for the two of you?
Higuchi: Even though were are the same gen, I respect her. What's great about Nogizaka is that each member has something that can be looked up to. Ikuchan is from the same gen, but let me just say one thing, I think that girl is amazing, she's gifted. I'm certain that she puts in a lot of work, but it all looks so effortless. It seems she plays the piano smoothly. I think she's gifted because of her undoubtedly untiring efforts without showing as much. She exceeds the boundaries of being an idol, and I think she is a member with a talent too amazing.
Suzuki: I think she is a person that gives color to Nogizaka. When I auditioned, Miss Ikoma centered "Kimo no Na wa Kibou" and she was flanked by Miss Ikuta and Miss (Hoshino) Minami. I felt the color of Nogizaka there and wanted to join this group, so I auditioned. And even when new members came in or when times changed, she is the one who always kept that color.
– What do you think about the song?
Higuchi: I would like you to look at the 2nd part of the lyrics. At first glance, the lyrics seem to be romantic, but when you perceive lyrics like "I know that I cannot hold you back" in the context of Ikuchan who is graduating, it makes my chest feel heavy. I don't want her to graduate but I also feel I have to support her as well. Among the members there have been talks about how the 2nd hook is particularly sad. The lead up is wonderful as well, and I am sure it will deeply move all the fans too. 
Suzuki: The 2nd part made me emotional as well. The MV also became a send-off to Miss Ikuta, so I believe that the fans will experience strong emotions too when they see it.
All the members sincerely think "I'm happy that I was in Nogizaka"
– What do you two think about the future?
Suzuki: Looking at the senpai who are graduating during the 10th anniversary, I think that it might be time to make a decision for me as well on my 10th anniversary. At least I know for sure it won't be after 20 years. 10 years have already past, and I don't think there will be another 10 years so I realized I am past the turning point. That's why, and I don't know when it will be, but at the time of my graduation, I want to leave as much behind to my kouhai as I can.
Higuchi: I think that for the 1st gen members, everyone thought about the timing of making decisions, especially in the 10th year. The thought of graduating after 10 years definitely has crossed my mind, but I want to try and go beyond that timing. I have been wondering how many years I'll be around but I haven't decided it specifically yet and I am rather looking forward to it. Looking forward to seeing how many years I'll be here, and I am excited thinking about the activities I will be doing. Also, certainly the 5th generation will enter, and the members will change along, but I think that the foundation of Nogizaka will remain and continue to grow older.
– What is that foundation?
Higuchi: It's something I can't put into words, but it's warm. Because everyone is warm, it's very comfortable to be together. Furthermore, everyone has their strengths, and everyone has something to look up to. Even though it's my group, I think everyone is great and that feels amazing. And above all, every member sincerely thinks "I'm happy that I was in Nogizaka." I think that is what leads to Nogizaka's uniqueness, which cannot be expressed in words.