Source: Ex Taishu January 2018 issue
アンダーライブ~近畿・四国シリーズ~ ただいま絶賛公演中‼
樋口日奈ソロインタビュー
すべては乃木坂46のために。
Under Live ~Kinki Shikoku Series~ The current highly acclaimed performances!!
Higuchi Hina solo interview
Everything is because of Nogizaka46.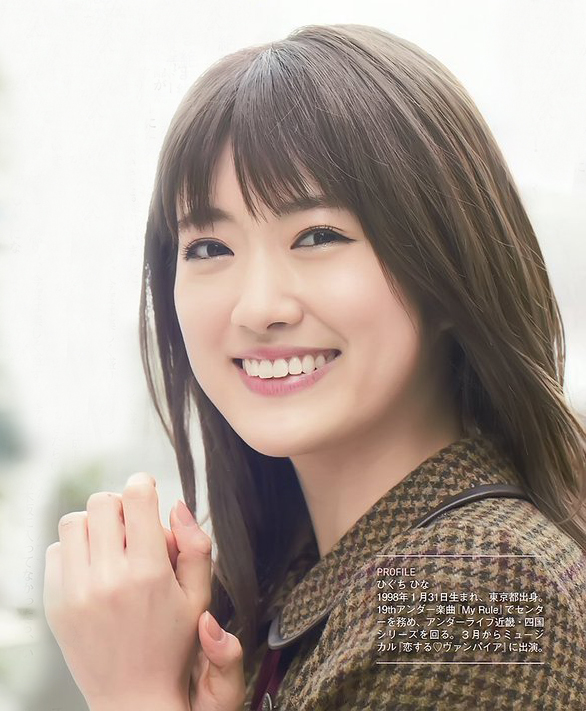 アンダーライブ近畿・四国シリーズが開催中のいま、アンダーセンターを務めるひなちまに聞きたい、乃木坂ライブのお話。
Hinachima is working as the Under center during the Under Live Kinki Shikoku Series that are being held at the moment and I wanted to ask her about Nogizaka live shows.
―アンダーライブ九州シリーズでは、不調だった中元さんと北野さんに代わって樋口さんがMCを回していくシーンが多かったです。
センター2人が出られるか分からない状況に不安はありました。私や(伊藤)かりんがセンターの2人に代わってしゃべる場面も多かったです。ただ、2人の気持ちを完全に理解することは無理だけど、メンバーみんなが2人を守るべきだし、そのために言葉を選んで話したつもりです。一方で、ファンの方の意見も賛否両方を理解したいと思ってしました。終わってみれば、いまのアンダーメンバーだからこそ臨機応変に対応できて、自信につながるライブになったんじゃないかと思います。
– For the Under Live Kyuushuu series, there were a lot of occasions where you filled in during the MC parts for Miss Nakamoto and Miss Kitano, who suffered from bad health.
I felt uneasy as I didn't know if the 2 centers would be able to appear. There were many moments when (Itou) Karin and I talked on behalf of the 2 centers. However, it is impossible to perfectly understand the feelings of those 2, but all members should protect them, and to that end we chose the words and said them. On the other hand, I also wanted to understand both pros and cons from a fans perspective. Looking back, being an Under member now, I am certainly able to interact in the need of the moment and I think these live shows gave me confidence.
―「アンダー」という曲にはどんな想いがありますか?
乃木坂に詳しくない友達が自分自身に置き換えて「いい曲だね」と言ってくれることがあって。メッセージを届ける側なのに受け身になりすぎていたんじゃないか、と思ったんです。受け身のままなら乃木坂として歌う意味がないと思って、前向きに歌うことができました。
– What kind of feelings do you have about the song "Under"?
Friends that don't know Nogizaka very well sometimes say "It's a nice song". I wondered if I delivered the message too passively. If it's passive, there wouldn't be meaning singing it as Nogizaka I thought, so I was able to sing it proactively.
―加入当初、1期生では年齢が下のほうでしたけど、いまや周りをフォローできる"お姉さん"になりました。
以前より「私が引っ張らなきゃ」という意識は強くなったと思います。だけど、変に負担に感じることなく、むしろワクワクしながらライブができました。
– When you entered in the very beginning, the 1st generation was very young, but nowadays you have become reliable "older sisters".
Unlike before, the awareness that I have to lead became stronger. However, strangely enough it is not a burden, I was able to do the live performances with excitement instead.
―「自分がグループに貢献できているのか」という葛藤はもう吹っ切れましたか?
いや、これからもどの位置にいても感じることだと思います。いまも1期生のアンダーの人数が減っている分、いろいろ考えてしまうこともあって。選抜に定着して乃木坂全体を引っ張るような存在になれば、そのモヤモヤが解消されることもあるはず。そのためにも、まずは自分のいる環境で持てる力を発揮したいと思ってます。
– Were you able to deal with the doubts about if you are contributing to the group?
No, I think that feeling will always be there. Even now, when the number of 1st generation members in Under is decreasing, there are various things I am thinking about. If I become a Senbatsu regular that pulls Nogizaka as a whole, those gloomy feelings should decrease. For that reason, first I want to display my power to endure the circumstances I am in.
―東京ドームではセンターに立って「My Rule」を歌いました。
ドームでセンター曲を歌わせていただけるなんて、選抜でも限られた人しかできないから、素直にうれしかったです。私が苦労してきたことを知ってる友達も「感動した」と報告してくれました。6年間、諦めずに続けてきてよかった。「辞めたいな」と思うこともあったけど、まだ何も達成できてないし、そのたびに「私のことを応援してくれる方がいる限りは頑張ろう」と気を引き締めていたんです。
– In Tokyo Dome, you sang the song "My Rule" as the center.
To have the pleasure of singing a center song in Tokyo Dome, which is even something a limited number from Senbatsu can do, made me truly happy. Friend that know of my hardships also told they were deeply impressed. I am glad I continued without giving up these 6 years. There were times I wanted to give up because I hadn't achieved anything yet, but everytime I get myself together thinking "Let's work hard as long as there are people that support me".
―センターとして参加するアンダーライブ近畿・四国ツアーでは、何を見せようと思うますか?
いままでは、心の奥底にある悲しい気持ちや熱い気持ちをぶつける場がアンダーライブだったんですけど、九州で出し切ったんじゃないかと思うんです。だから、今度は楽しく盛り上がれるライブにしたいなって。乃木坂としては今年最初のライブになると思うので、ファンの方も余計なことを考えず楽しんでほしい。"アンダー"を超えて"乃木坂46"として見てもらえるとうれしいです。そのために、「明るく元気に」を意識したいです。
– Participating as a center on the Under Live Kinki Shikoku Series, what are you thinking of showing?
Until now, the Under lives have been occasions were sadness and passionate feelings from the bottom of my heart collide, but I think that was over during the Kyuushuu shows. Therefore, I want the live shows to become enjoyable and exciting this time. Because these will be the first Nogizaka live shows of the year, I want the fans to enjoy it without thinking too much as well. I would be happy if "Under" exceeds "Nogizaka46". To that end, I want to sense the "bright energy".
―来年3月には舞台『恋する♡ヴァンパイア』に出演することが決まりました。
最近はメンバー同士で舞台について話すことが増えて、「いい傾向だな」と思います。グループ外のお仕事で得るものは大きいし、それを乃木坂に持って帰って共有したい。もっと自分がそういう役目を担いたいんです。
– It has been decided that you will appear in the stage play "Koisuru ♡ Vampire" next March.
Talks with fellow members about stage plays have increased lately, which I think is great. Obtaining things by doing jobs outside of the group is great, and I want to bring that back and share. I want to take on that kind of role more.
―個人仕事も「乃木坂のため」なんですね。
乃木坂に入ってなかったら、いまやらせてもらっているお仕事はなかなかできない。そこは忘れちゃいけないと思うんです。それに、乃木坂があるからこそ、外のお仕事も頑張れる。どんな時も乃木坂を一番大事にしたいと思ってます。
– Individual jobs are because of Nogizaka, right?
If I hadn't joined Nogizaka, I wouldn't by no means be able to do the jobs I am doing now. I think that's something I shouldn't forget. Besides that, because of Nogizaka, I can give my all on outside jobs as well. At any time, I want to put Nogizaka before anything else.
―1月31日には20歳になります。
乃木坂に入って7年、あっという間でしたね。「あのメンバーが20歳だった頃は何していたのかな」と考えると、いまの自分はまだまだだなと感じます。ただ、13歳の時に比べると「成長した」と胸を張って言えるので、20歳からさらに成長できたらいいなと思ってます。
– On the 31st of January, you will become 20 years old.
It has been 7 years since entering Nogizaka, time goes by fast doesn't it. I have been thinking about what other members did around the time they turned 20, but I think I am not there yet. However, compared to when I was 13 years old, I can say with confidence that I have matured, so I hope to grow more when I turn 20.